Show us your interior, we will tell you who you are. Fans of the Scandinavian style, in love with shimmering shades or rather followers of ultra-design furniture, your taste in decoration says a lot about your personality. The layout of your space, the choice of colors or even the materials that you favor would be all details that would allow you to read in yourself as in an open book. In any case, what the "Modsy" architecture platform claims who joined forces with "Pinpoint Predictive" to establish a skillfully developed questionnaire. The objective? Determine which style suits you best in order to live in harmony in an interior that fits with your personality. You will thus know on which decorative nuggets to set your sights or on the contrary in which not to invest.
Types of Interior Designs Trending Styles In 2020:
1) Minimalist
Minimalism is a current born in the 60s in reaction to the consumer society. He advocates a return to the essential, the purity, the functionality. Famous for its "less is more", the architect Mies van der Rohe is a fervent defender of it, giving it its letters of nobility. This resolutely modern trend continues over time, and at a time when society is tending to a more thoughtful mode of consumption, minimalism makes new sense. For its detractors, this "less is better" is synonymous with coldness, the interior being devoid of objects and therefore of soul.
2) Traditional
The traditional style in your new condo for sale is characterized by furniture and decorative items from ancient times with fairly dark colors. Traditional decoration is thus appreciated because of its timelessness, that is to say its adaptation at all times. Having a traditional living room is thus a pleasure with an elegant decoration. We recognize the traditional decor by its patterns which are generally in flowers, stripes or geometric shapes. The walls are in fairly light and soft colors like beige, brown or vanilla color. Thus, traditional decor brings warmth to your living room and makes it much more attractive.
3) Transitional/Mid-Century Modern
The mid-1900s produced some of the most iconic pieces of modern design. It is characterized by clean lines, minimalist silhouettes and natural shapes. From Saarinen, Niemeyer, Eames, Noguchi, Jacobsen and beyond, mid-century modern masters have defined creative ways to use new materials such as molded plastic, plywood and aluminum in industrial design. Its pieces are very versatile and can complement a myriad of design styles.
4) Rustic
At the beginning the rustic style was not really a style in itself but a lifestyle. Recently, it has become a primary decoration style. It is designed from humble beginnings, from the time when people used only what they could get themselves where they were. Build from scratch, use, reuse and then reuse again.
The rule of the game when it comes to talking about rustic style is to emphasize the rough and organic nature of things. Everything must come (or seem to come), as far as possible, straight from the ground, since this is what is at the origin of this endearing style.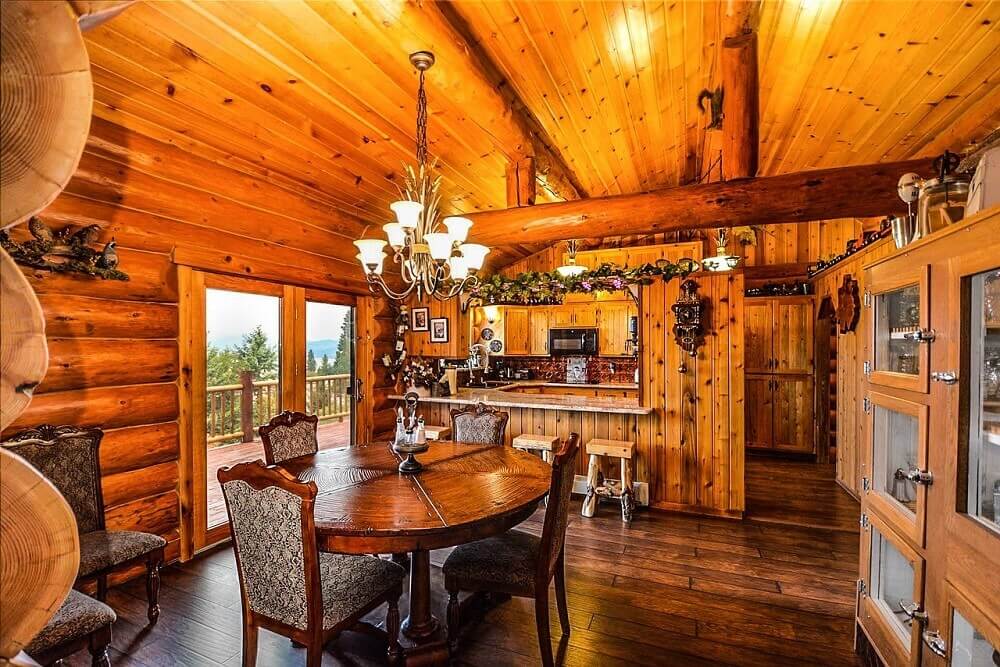 5) Shabby Chic Decor
Shabby Chic is an interior design trend that is both bohemian and elegant. This expression could be translated from English as "worn chic" or "damaged chic". He was born in the United States in the 1980s and has been gaining momentum in France for several years. You may even have without knowing it, an interior in this style.
The Shabby Chic decor is characterized by very bright pieces, a romantic atmosphere and a touch of vintage. We prefer antique furniture in patinated wood with a worn effect if possible. White is widely used with some notes of soft colors such as powder pink or pastel blue. And finally, the spirit must remain natural with authentic materials such as wood, linen or cotton.
6) Tropical
Natural materials, original patterns, colorful environment: the tropical decoration is attracted by its exotic and pleasant atmosphere as well as its elegant style. The shimmering prints highlight exotic patterns such as palm trees, parrots and banana trees. They can also be found on curtains, cushions, without forgetting wallpapers. Decorative items are no exception to this rule, like bamboo soap dishes in the shower, pineapple-shaped jars or lamps whose shape is reminiscent of palm trees. The same is true for furniture and flooring. We prefer raw wood and wicker, but also bricks or tiles for their practicality.
7) Scandinavian
Clean, authentic, functional and warm, Scandinavian design has been all the rage for several seasons. Wood, wool, fur, white, colorful notes, prints inspired by nature, discover the key ingredients of the Nordic style and adopt the cocooning attitude too!
Scandinavian furniture, or inspired by style, is characterized by simple, pure, unadorned lines. Straight lines are often used, but it is not uncommon to cross a few curves around a table or a storage unit. Also, be careful not to load your decoration because the watchword is "purify", to create a comfortable and functional interior.
8) Bohemian
The bohemian spirit comes from a fascination for nomadic life, where one is free as the air. A bohemian decoration implies the idea of ​​the famous "hippie trail", the route that young people took in the 1960s and 70s, a journey from Europe to Asia, via the Orient. These destinations explain the presence of all these colors and materials from the East, Russia, Gypsies and Hindus in the decoration. The bohemian spirit is therefore an invitation to travel.
Bohemian decoration is a style in which there is an assemblage and an accumulation of patterns , materials and objects. The colors are vibrant, lively as well as deep, they combine to create a warm atmosphere. A colorful and playful universe where naive patterns inspired by nature invest the decoration and bring a little lightness.
9) Industrial
Brick walls, plumbing pipes and concrete floors are typical elements of this style of interior decoration. A true reminder of the era of industrialization and factories, the industrial style is defined by robust furniture with clean lines, without frills or unnecessary ornaments. The functionality and durability of the furniture is at the forefront.
10) Eclectic
A true style of eclectic decoration is not easy to distinguish, to categorize, or to classify. By definition, it is a style characterized by mixing and assortment, it breaks the rules, encompasses the contemporary and vintage style, grants the demonstrative and the subtle.
In general, someone who is attracted to the eclectic style is someone who appreciates the beauty of precious things with unique and extraordinary qualities. The eclectic style, expressing an exteriorized confidence, turns out to be a personalized style.
Decorating your home also means making it practical and easy to access. Each person has different needs, and your home should reflect that. Your cupboards, your household appliances, your furniture, they are all part of your interior decoration. If you live in a small house, you will choose smaller furniture and appliances. If you like to cook, you will want a functional and efficient kitchen, so you will focus on this aspect. The ability to identify different interior design styles will help you to deeply understand inspirational visions of your future home and provide a framework to build your personal aesthetic.