Those urban dwellers who live in limited space or an apartment might look for an opportunity for gardening. The idea of deck railing planters can fix the downsides of living in an apartment. Growing upright vegetables can be difficult, but definitely, the best choice for flowers as these planters can be displayed fresh and add a bright spot to every new day of yours.
These adaptable containers help you make better use of limited space & add a touch to any deck, veranda, patio, or sundeck planter. Choosing the right versatile boxes for your railing can yield the enjoyment of exquisite flowers in an affordable way.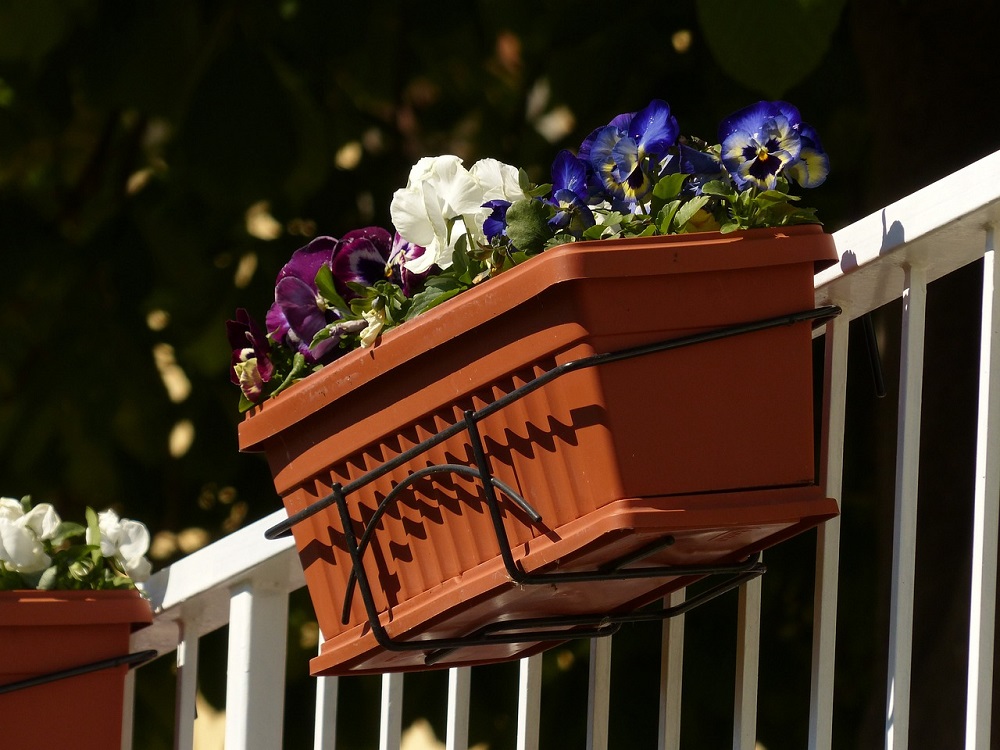 Things to consider before selecting the railing planters
Whether you own your home or staying as a tenant, make sure to avoid damage to your railing. It is wise to go with planters with rubber or plastic-coated brackets since the bare metal brackets can generate damage.
Space between the base of your patio or deck planters and the surface of the railing is significant for adequate air circulation.
Self-watering planters or planters made with no-rot materials are best, as it avoids resting of water, staining, rotting, or rusting.
Before ordering your deck rail planter, consider its dimensions, as they coincide with the plants you grow.
5 Best Plants for Deck Railing Planters
  Some suggestions for keeping your plant consistent with all the climates you endure.
Dahlia: Since dahlias require excess sunshine and limited watering, they work well in deck rail planters. Consider your box height before investing in dahlias as they tend to get tall.
Zinnias: Similar to dahlias, these Zinnias also love the sun and do not require much watering. Also, these plants for deck railing planters are best as they are easy to grow & pest-resistant.
Roses: One of the simplest plants to grow and take care of is roses. They are apt for rail planters since their beautiful colors make an outstanding look.
Geranium: This flowing plant accepts both sun and shade and its roots are tightly packed to make them grow in deck rail planters.
Petunias: Since they are true annuals, this plant is normal in all zones. They require lots of sunshine but also endure a cool climate. It is significant to keep an eye on the water level since too much moisture can lead to a problem.
Steps to plant flowers in deck railing planters
Evaluate the lighting as the flowers are drawn towards the sunlight and require 6 to 8 hours of light throughout the day.
Once the selection of plants and soil is done, drill small holes for water drain purposes.
Fill the planter with soil that is 1 to 2 inches from the top. Gently clean the roots from dirt since they will spread easily in new soil.
Do not place the second plant too close to avoid the spreading of roots and scaling is more important in placements.
Tips on How to water your plants
Watering the plant is important since they drink via roots. Make it as a daily routine to check the moist texture of the soil.
Observing the moisture of the plant will give you an idea of how thirsty the plants are.
Water it regularly based on the moisture of the plant. Don't be too excessive or too little.
Measuring the right amount of water for the plant is an experiment, observe and act based on it.
Last Thought
If you are an enthusiastic plantsman or wish to change your exterior through gardening, then deck rail planters are a good choice. It might seem challenging but thinking outside of the box will change your porch into a visual treat. You may also follow the experts who write for home improvement blogs sharing their indoor planting ideas and interior decorating tips.